I'm being barraged by frantic emails from my party of choice screaming that the other party is gaining on us, because they're raising way more money than we are in the race to win control of Congress, thanks to bad men with deep pockets.  I did cough up eventually, but obviously my pittance was not enough. They keep haranguing me anyway, with a promise that my few dollars would be double or triple matched.  You know what? I don't really care anymore.
If you consider that Congress is about as popular as roadkill, and just as effective (roadkill just stinks up the place), I don't see why I should give my hard-earned money to keep these do-nothing pols there. I'd rather send it to people who are really doing something worthwhile, like giving micro-loans to women entrepreneurs in third world countries so they can work their way out of poverty, or building schools in those same countries to give young girls the education they're denied just because they're girls, or setting up rural clinics to bring basic health care to these girls and their families. That's not to say our own country couldn't benefit from similar programs. But then, that's what Congress is for. Isn't it?
I know I'm grossly oversimplifying the issue, but it's my rant. And besides, getting into it just raises people's hackles, depending on which party you're partial to, and we end up yelling at each other while nothing gets done. Just like in Congress.
So, instead, I'm going to do something useful. I'm going to give you a recipe. Not just any recipe, but one that matches my mood.  I'm going to take something bitter and make it sweet – with help from Linda Anusasananan, author of The Hakka Cookbook: Chinese Soul Food from Around the World.  I came across this recipe on Linda's website where she explains how she adapted one of the recipes in her book to come up with this sweet, crunchy pickle.
With just four ingredients, it was dead simple. A quick trip to the Windward Mall Farmers Market scored me some nice looking bitter melon.  The most labor-intensive part was cleaning out the seeds and pith, and slicing the melon. Hardly back breaking.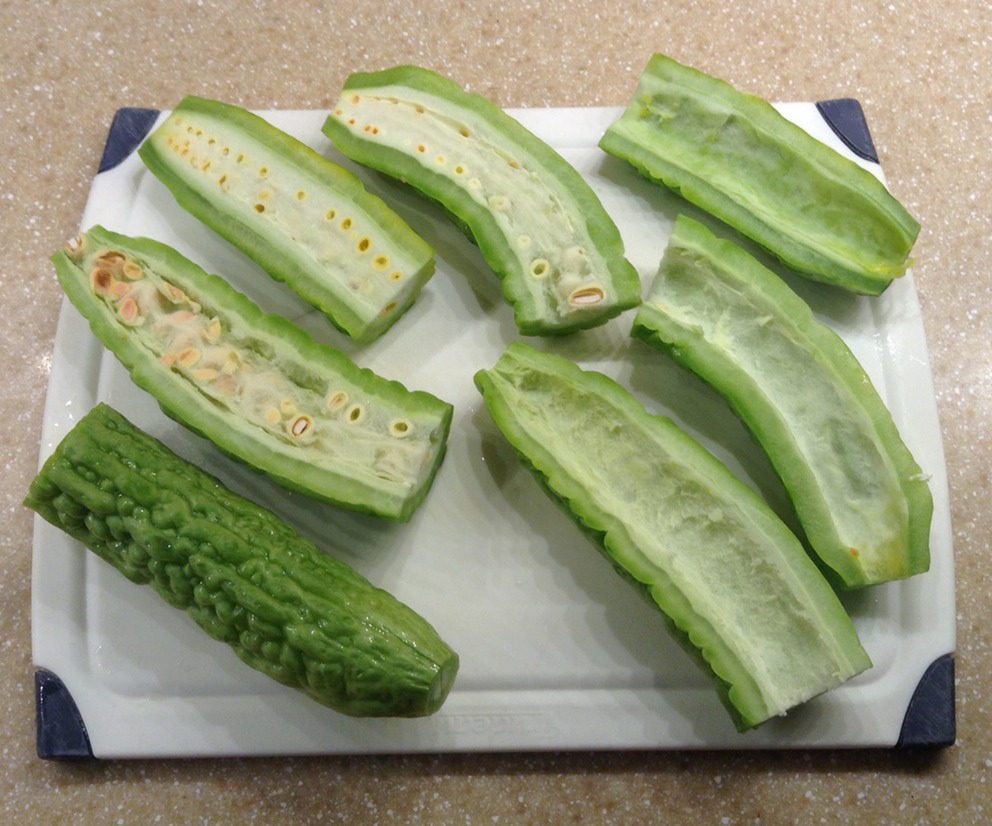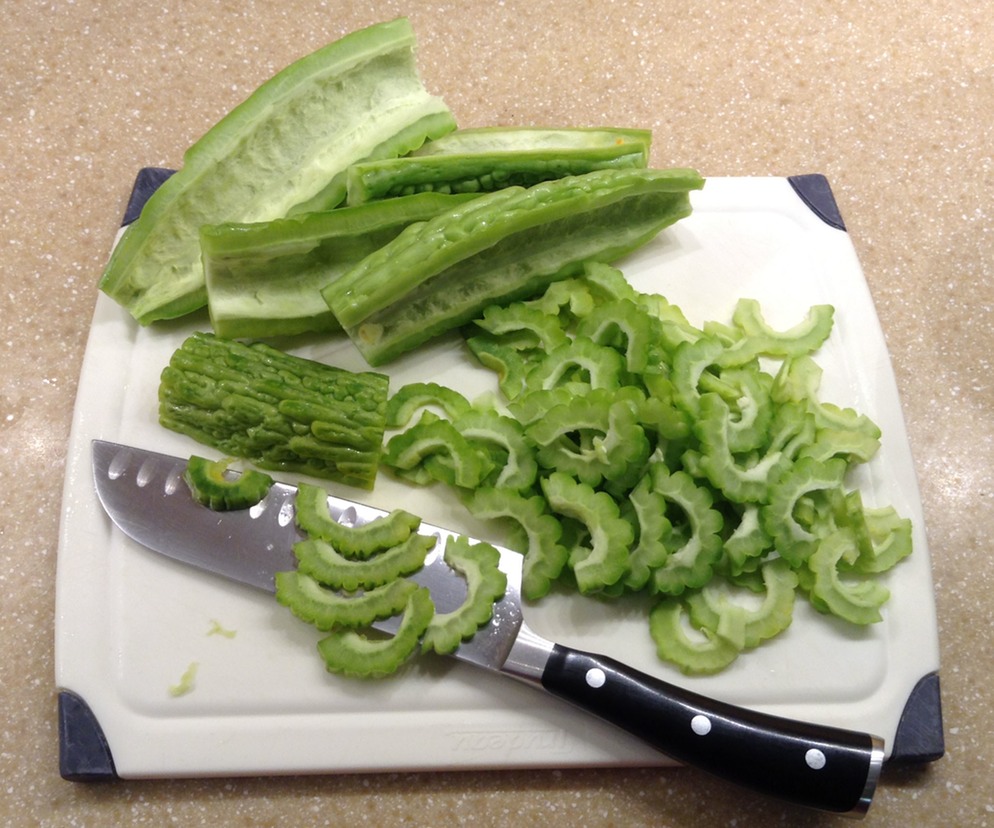 I actually made a double batch so I could share it with my son, Tracy – also a bitter melon fan. That was a good call.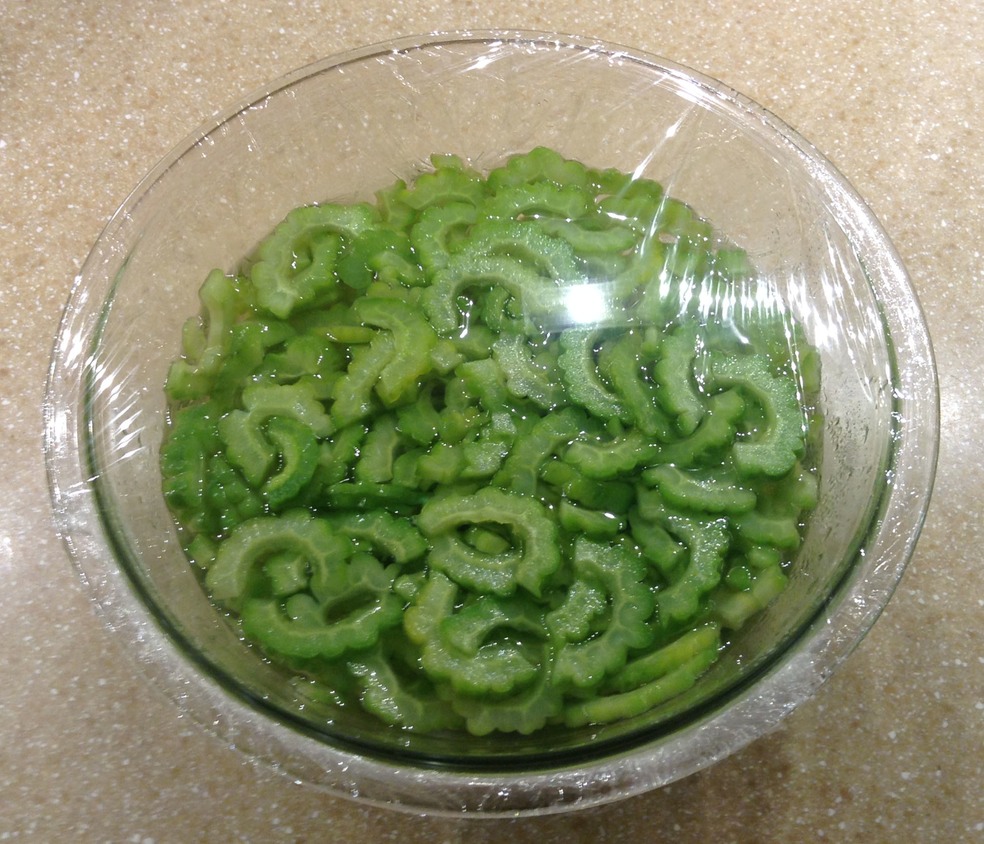 Here's the recipe:
Sweet Tangy Bitter Melon Pickles
Bitter melon (foo gwa) are in farmers' and Asian markets now. They don't look like melons, their shape is more like a slender gourd or a plump zucchini. Their green skin is rutted with bumpy furrows and their interior is filled with white pith and seeds.
 Makes about 2 cups
2 medium bitter melons (about 12 ounces)
2/3 cup rice vinegar or distilled white vinegar
2/3 cup sugar
1/2 teaspoon fine sea salt or table salt
1. Trim ends off melons. Cut melons in half lengthwise. With a spoon scoop out and discard seeds and white pith. Cut the melon halves crosswise in 1/4-inch thick slices to make about 2 cups.
2. In a 3- to 4-quart pan over high heat, bring about 1 1/2 quarts water to a boil. Add the bitter melon. Stir to separate slices and cook just until bright green, about 30 seconds. Drain and immerse in ice water to cool quickly.
3. In a large bowl, mix the vinegar, sugar, and salt until the sugar dissolves. Stir in drained bitter melon. Cover and let stand at room temperature overnight. Transfer bitter melon and liquid to smaller containers. Cover and chill, stirring once, until the pickles are crisp, sweet, and tangy, 2 to 3 days. Keeps in refrigerator for a few weeks.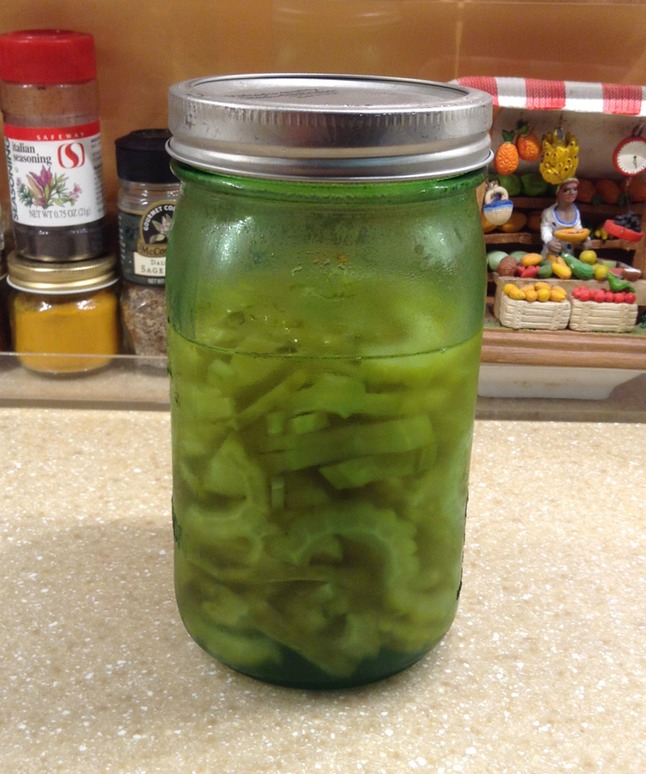 I admit that bitter melon is an acquired taste, but you should try this – the pickle just may grow on you. As for me, I think it's time to make another batch.
Oh, and I just unsubscribed from my political party's email list. Sorry, folks.
Message for today:
"Bitter" is a state of mind.
Let's sweeten things up.